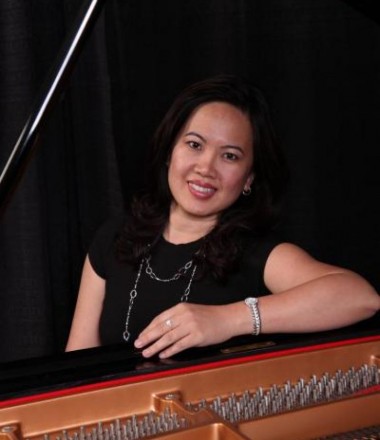 Anna Hanh Pham
Owner/Piano Instructor
Read Full Bio
Ms. Anna Hanh Pham was born in Ha noi, Viet nam. Her studies include eight years at National Saigon music conservatory, followed by six years in Moscow, Russia where she studied at the world renown Gnhesin Russian Academy of Music obtaining the Bachelor of Art Degree in 1995,major in Solo Piano Performance, Pedagogy, Accompanying and Chamber Music. Anna Pham later attends McGill University of Montreal, Canada where she received her Master of Music Degree in 2001,
She has taught at Saigon Conservatory of Music in Vietnam during 1995-1999. After moving to United States in 2002, Ms. Anna worked as music director and piano instructor of Agape Music Centre in Rosemead city, CA from 2002-2006. She released her first CD 'Give Thanks' in 2005. Ms. Anna Pham is an active member of Music Teacher's Association of California Orange County West branch since 2006
She has performed as a concert pianist and accompanist in Russia, Vietnam, Canada and the United States.
Her performances included the concert at Richard and Karen Carpenter Center in Long Beach, California, October 06, where she played several pieces during the East Meets West show for the Lac Hong performing arts group.
In September 2010, Ms. Anna Pham becomes director and piano teacher of OCMC. She welcomes new students to her studio at OCMC this year, and would like to show her love and expertise in teaching to all different ages and levels students.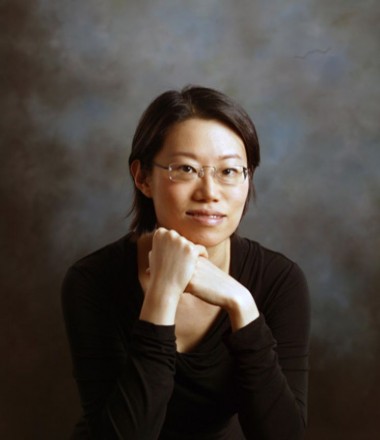 CYNTHIA LAW
Piano Instructor
Read Full Bio
Cynthia Law was born in Hong Kong, China, where she began studying classical piano at the age of six. Her very first experience teaching piano privately to children and adults was when she was 14 years old. Later her passion in piano performance lead to further study at Rio Hondo College, where she spent 3 and a half years actively participating in the college's Arts and Cultural Programs performing as a soloist and in the Diverse Instruments Ensemble. Outside of the academic world, she also collaborated with keyboardist Jannine Livingston and choreographer Lauren Kearns in 2001 for a dance performance at Highways Performance Space in Santa Monica.
Cynthia's passion in teaching also lead to further study in piano performance at California State University Long Beach, where she received her Bachelor of Music degree in 2007 and Master of Music degree in 2010. Pianists and mentors who have greatly influenced her in both performance and teaching style include Dr. Valentina Gottlieb, Chizuko Asada, Glenn Gould, and post-minimalist composer Steve Moshier. Cynthia has been teaching piano continuously since 1999. Her experience includes working with students of all ages, ethnicities and socio-cultural backgrounds. Since 2006 she has created and performed in bi-yearly recitals for her students. Some of her favorite composers include J.S. Bach, Ludwig van Beethoven, Johannes Brahms, Felix Mendelssohn, and Steve Moshier. Besides playing the piano, Cynthia also enjoys creating abstract visual art.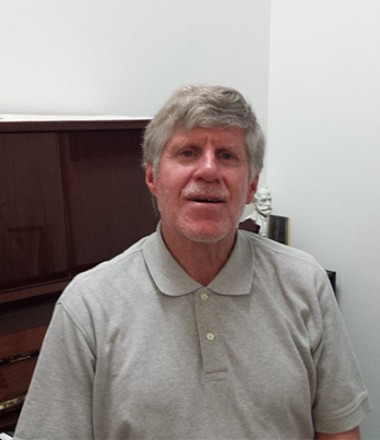 ROD BROWARNY
Saxophone Instructor
Read Full Bio
As a musician and teacher I have over 20 years of experience, performing with greats like Louie Bellson, Stix Cooper, Keith Grecko, Rich Prapeza, Margo Reed, Sonny Stitt, Armond Boatman, Dave Cook, Nadine Jansen and Nancy Gee. As a high caliber saxophonist I have developed an extensive knowledge of every aspect of Jazz performance. I have an imaginative, harmonic talent that has allowed me to develop my own rhythmic combo. Most importantly, as a musician, I have a beautiful sound, and I swing! All this combines with my expertise as a teacher and leader, and my performances with numerous Jazz, Blues and Latin groups.
My teaching experience is with woodwind instrument (clarinet, saxophone and flute) My teaching expertise has been with one – on –one private lessons. I am unique because I am a great professional teacher, and I play as a professional musician. My students are able to benefit from the "old jazz" orientation of my background. I am reliable, dedicated, and have pride in my work. My desire is to nurture my students into developing their skills as musicians, and to help them create an enthusiasm that can lead to a lifelong love for music.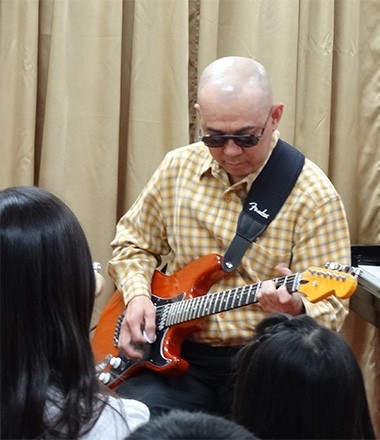 Quoc Thang Tay
Guitar Instructor
Read Full Bio
Mr. Quoc Thang has been in the Music Industry for over 40 years.
-From 1969 to 1975 entertaining for US Service in VietNam
-1980 to 1987 touring in Canada and US
-1987 to current Recording Studio for Artist like Khanh Ha,Tuan Ngoc,Y
Lan, Huong Lan, Thai Chau….
-2011 to current giving Guitar lesson at OCMC,VQT Music Acadamy, New Light.
Has lots of experience in teaching Guitar from Beginner to Advance.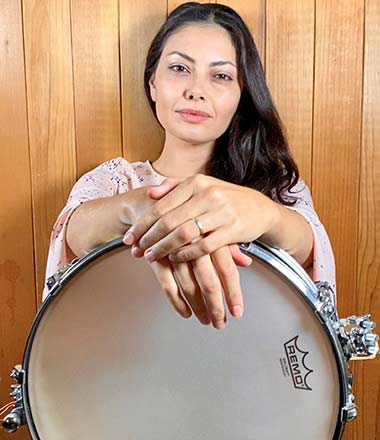 Jessica Ornaghi
Drum Instructor
Read Full Bio
Jessica Ornaghi graduated from University of Sao Paulo with BM in Percussion Performance in Brazil. She has had as regular teachers: Eliana Sulpicio, Ricardo Bologna, Ruben Zuniga and Roni Wenzell. She participated in several masterclasses and classes from Raymond Curfs, Gregory Beyer, Randy Max, Eduardo Leandro, Carlos Tarcha, Fernando Mezza, Matthew Howard and others. In the 2016 she was selected to participate in the Orchestra of the Americas YOA for the European tour under the regency of maestro Benjamin Zander and Carlos Miguel Prieto. She was one of the finalists of the PASIC orchestral auditions competition in Brazil. From 2014 to 2017 she was the principal percussionist and timpanist of the Heliopolis Symphonic Orchestra under regency of Isaac Karabtchevsky. In the same year Jessica won a special scholarship of the 48 International Festival of Campos do Jordao and performed with the Sao Paulo Symphony Orchestra (OSESP) under regency of Marin Alsop. In 2018 Jessica Played as a guest with AYS symphony and taught during the summer program from Azusa Pacific Conservatory. In 2020 she received her Arts Certificate in Performance from Azusa Pacific University in the studio of Prof. Bill Schiltt, Raynor Carroll and Mark Converse (Drum Set). Currently Jessica Ornaghi is studying her Master's degree at Azusa Pacific University, teaching private lessons and teaching at Orange County Music Conservatory.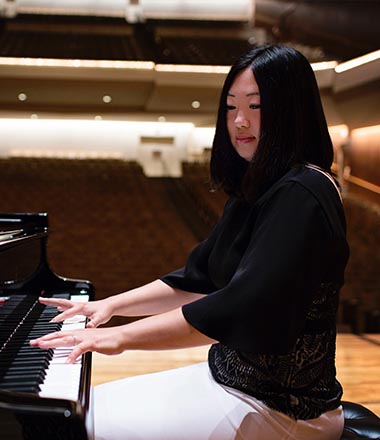 Dr. Tong Mu
Piano Instructor
Read Full Bio
Dr. Tong Mu performs as a chamber musician, harpsichordist, and concert pianist. She won the Northern Illinois University concerto competition at 2009 and performed the Piano Concerto No. 1 in e minor, op. 11 by Frederic Chopin with the university philharmonic orchestra. A 2016 winner of the International Music Competition Vienna Grand Prize Virtuoso, Dr. Mu current residents in Irvine, CA, she works as an experienced private piano instructor. She is an active member of the Music Teachers National Association.
Dr. Mu began studying piano at the age of four in her home town of Harbin, China. She received a Bachelor's degree in piano performance from Shenyang Conservatory of Music. She later attained a Master of Music degree and Performance Certificate from Northern Illinois University, in DeKalb, Illinois, after studying under the mentorship of Dr. William Goldenberg. She earned her DMA
Doctor of Musical Arts) degree from\ University of Illinois at Urbana-Champaign, under instruction of Dr. Timothy Ehlen. Tong also holds an Artist Diploma in harpsichord after studying with Dr. Charlotte Mattax\ Moersch.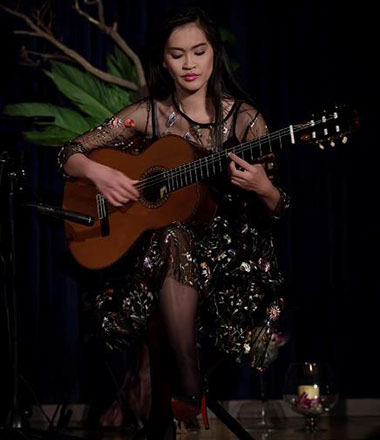 Phuong Thao
Guitar Instructor
Read Full Bio
Phuong Thao was born in Saigon post 1975 where the twin sisters studied guitar at the age of six and pursued guitar performance at Saigon Conservatory when they were ten. Phuong Thao graduated with a bachelor degree of music in 2000 where she began teaching guitar at the Saigon Conservatory until 2014. Phuong Thao studied with professor Hoang Dam for three years starting in 2003 and graduated with a master degree of music theory and guitar performance. Phuong Thao and her sister organized "The Twins" program in July 2011, a well successful guitar performance at Phú Nhuận Cultural Music House, Saigon. Phuong Thao moved to America in 2014 where she continued teaching guitar at the Orange County Music and VQT schools, performed in many concerts throughout Orange County. Thao organized another program in 2016, "Phuong Thao and Friends", with great success and warmth welcome from her fans who loved classical guitar performance. Tickets were sold out weeks in advance in all the programs.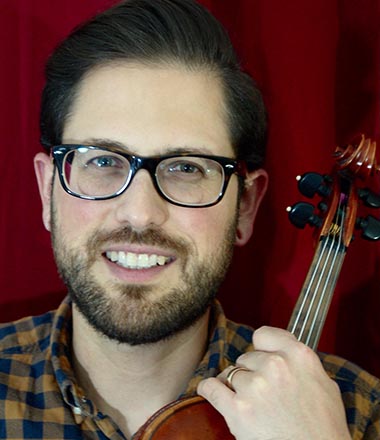 Miguel Ramirez
Violin Instructor
Read Full Bio
Miguel Ramirez has been teaching violin lessons for 19 years. His students have been so satisfied with their experience and the quality of instruction they receive, that they have continued lessons with him for many years. He has had students accepted into the Meadowmount, Eastman, Mannes, and Bard music schools, as well as the California CODA, honors orchestras. He also has had many students who simply play for fun, yet have become very proficient on the violin. Mr. Ramirez was raised in a family with many professional musicians, and throughout his life has had the privilege of studying with world-class violinists including those in the Metropolitan Opera, Atlanta Symphony Orchestra, and Juilliard alumni. Before moving his family to the Orange County area, he had been on faculty as string specialist and conductor at the San Diego Youth Symphony & Conservatory for 8 years, the New Youth Orchestra for 6 years, as well as teaching at many San Diego school music programs.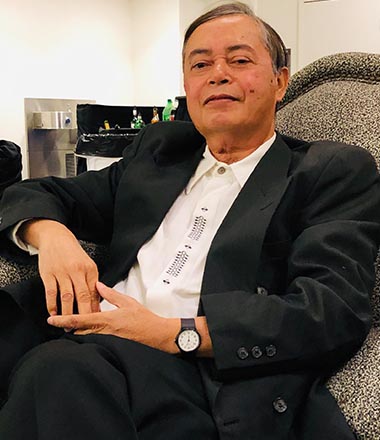 Richard Alcoy
Piano/Guitar/Flute Instructor
Read Full Bio
Richard Alcoy, also known as Ric Ickard, is a Naxos international recording artist. He is a featured guitarist at the annual Chet Atkins Convention in Nashville, Tennessee and was a headlining performer at the 2011 Philippine International Jazz Festival. Before beginning formal studies, Ric performed his first concert at the age of 17. He earned a Bachelor of Music Education degree with piano as his principal instrument at St. Paul University Manila. Ric was a recipient of the Philippine government scholarship in classical guitar and composition. He was a first prize awardee of both the classical and jazz guitar competitions in the Philippine Guitar Festival by the Yamaha School of Music. A veteran\ musician, his vast repertoire generates demand for accompaniment from singers and instrumental soloists alike. In 2017, Ric won the Spotlight Award of Los Angeles as Instrumentalist of the Year.
Have Questions? We Can Help